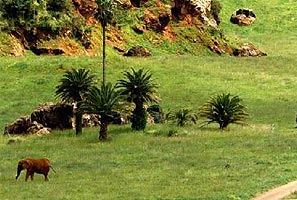 Cantabria has a multitude of places to visit:
In the Natural Park of Cabárceno you can enjoy seeing over a hundred species of animals, from the five continents, in semi freedom.
El Soplao, better known as the "Subterranean Sistine Chapel." is one of the great world's speleological treasures and one of the subterranean secrets of Cantabria.
Comillas, declared historic-artistic area, which outstands for its magnificent architecture and the manor houses with their coats of arms, belonging to the nobility of those times; not forgetting the Palacio de Sobrellano (Sobrellano Palace), the Universidad Pontificia (the Papal University) and, of course, "El Capricho" by Gaudi, the brilliant architecture from Catalonia.